The University of Whispers 
In the cell, prisoners weren't allowed to talk to one another. So they whispered. 
Slowly, Alshogre got to know his fellow prisoners. He realized he shared a cell with a doctor, an engineer, a psychologist, a lawyer. 
Gradually, they started sharing tips from their trades: the psychologist offered techniques to withstand torture; the doctor took care of wounds; Alshogre taught the group how to whistle noiselessly to call to birds, earning him the nickname the "bird tamer."
When Alshogre turned 18, they began to call their group "the university of whispers," as Alshogre was supposed to be in college. They shared knowledge they could use on a daily basis, Alshogre says, such as ways to distribute 10 potatoes to 100 prisoners as equally as possible.
"It was an amazing way to learn in a place where everything you are learning is necessary and useful," he says. "And it wasn't just the technical things but the mentality of learning. Just being able to learn in a difficult situation and keep your mind active every day. That's when things started to change. Because thinking about this place as prison where people die, it's depressing. Thinking about it as the university, it's exciting."
A Split Second of Freedom
In 2015, Alshogre's luck changed. In June, he was blindfolded, his hands tied behind his back with metal chains, and told he was about to be executed. Really, his mother had paid an intermediary to smuggle Alshogre out of prison through a mock execution.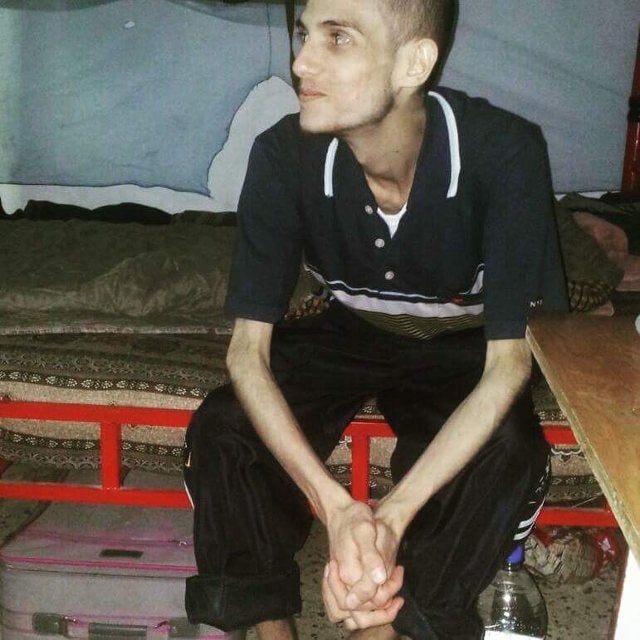 Alshogre remembers an officer standing behind him. The sound of guns being loaded. The word "aim," the pfft of a gunshot. He thought he had been killed. When he opened his eyes, he saw a tree. A bird flying. He was free.
Alshogre was 74 pounds, suffering from tuberculosis. In the months following, he traveled to Sweden to get medical care. He saw his mom for the first time. He learned his father and two brothers had been killed by the Assad regime. 
Every morning, he looked at his wounds in the mirror to remind himself that he was really alive, he said.
"Those people with me, they died. They didn't get out. I survived thanks to them," he says.
In the years since, Alshogre has made it his mission to tell his story and the story of the Syrian people to as many as he can. And he's doing it from the Hilltop.
Life as a Hoya
We deserve a moment of happiness. I'm officially admitted to Georgetown University. @Georgetown pic.twitter.com/M1BVsaY8dS

— Omar Alshogre (@omarAlshogre) November 1, 2020
At Georgetown, Alshogre takes international relations and business classes at the Walsh School of Foreign Service, and the McDonough School of Business in addition to his classes through the School of Continuing Studies. He takes courses in psychology and criminal justice that he applies to his advocacy work for prisoners.
In his Making an Exoneree class at Georgetown, he and his classmates reinvestigated wrongful conviction cases like the case of Tim Young, who Alshogre met at San Quentin and who has been incarcerated for 23 years. They class made documentaries about five incarcerated individuals.